To Pick the Pup
"How do you pick the right pup?" Maybe one of the most commonly asked questions I hear asked. I've read and heard all the old wives tales and I don't think there is much merit to any of them. Do you pick the runt or not, throw the dummy and whichever one retrieves it is the best, dance a feather or wing on a string and see who shows the most interest, always choose the boldest pup one or never take dominant one...the list goes on and on. I don't know if there is a sure fire, sound, proven way to pick the right pup. I recently was talking with a very credible breeder and he asked if it's possible to walk into a kindergarten classroom and pick out which kids will be successful?
I have long been a believer in the idea of spending little time picking the pup and a lot of time and effort picking the right litter. Which in turn means finding the right kennel, ultimately the right breeder. That is where you increase your odds exponentially when it comes to getting what you've bargained, or more accurately, paid for. Maybe the most important question that needs to be asked is "what makes for the right kennel and breeder?"
The answer to that all-important question is going to depend primarily on you. If you match the lifestyle, training style and hunting style (in that order of importance) you really cannot go wrong. Miss one or all of them, you might find yourself wondering how you got yourself into this position. I do think it's that important to do your best to match all three of those variables with your preference as this is going to be a relatively long-term commitment.
Notice, I say your preference. That is really what is important if the dog is going to live with you, be trained by you and hunt with you. There is a saying when it comes to dogs and genetics. "Like throws like". That I can say for certain is true. If you want to see what your pup will act and look like when they grow up, look no further than Mom and Dad. It truly is your best bet at seeing into that crystal ball. I find that more often than not, pups are going to take on a heavy resemblance to either their dam or sire. A misconception among some breeders and most dog buyers is that the puppy will take a mix of characteristics from both. From a breeder's standpoint, I think this is often an optimistic hope, but not necessarily the reality. For instance, plenty of times I have heard the logic behind the pairing of dogs was to balance the strength of one to the weakness of another. I too used to think it made sense. Breed a hard charging, "high drive" sire that is full of hunt to a "soft" dam with a great nose and you will get pups with lots of hunt, great noses and somewhere in the middle when it comes to temperament. Unfortunately, it just doesn't work that way. More often, you find yourself with some pups that take on dad's high drive and others that are cool and calm like mom. A lot of times you will see it in them literally, taking on physical characteristics and confirmation of the parent that had the most genetic influence from a trait's and personality standpoint. Breeding dogs takes finding the balance between art and science. Both are necessary in order to do it well and with any consistency.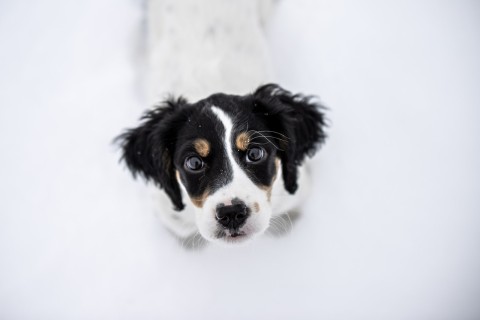 Find, Trust, and leave it to the Pros.
Like any trade or craft, it can take a lifetime of knowledge to perfect and I don't recommend it for everyone. Instead, I recommend finding someone who is committed to that line of work and has dogs that match your desires. Once you find what you think is the right dogs, I think the most important and overlooked factor might the relevance of the people behind them. Getting to know and trust the breeder is of the upmost importance in my opinion. They are the ones that know the details of each dog when it comes to strengths and weaknesses and all dogs have both. Difficult decisions have to be made when it comes to determining which dogs should or shouldn't be bred based on one thing; does the breeding improve the breed, does it improve their line of dogs?
There is so much that goes into it, the breeding of dogs could be its own series of novels, much less an article. But my intentions are not to focus on breeding, instead it is on finding the right breeder which ultimately leads you to the right pup. I've had to take some of my own advice lately as I've spent the last 3+ years searching for just that. Typically, you will see me with a retriever (or six) by my side, but soon I will be adding a new look to our pack. After emailing, messaging and talking with close to a dozen different kennels I recently made a trip through NW Wisconsin just across the border into East Central MN to visit with Jerry Kolter and Betsy Danielson of Northwoods Bird Dogs. After a relatively in-depth visit, I placed a deposit on an English Setter. This will be my first Setter much less pointing dog and I had done a fair amount of research leading up to this point. I spoke with multiple people who own or have hunted over the Northwoods Setters and Pointers and believed that the dogs were very strong from a genetic standpoint. But for me, this trip was as much about meeting Jerry and Betsy as it was the dogs themselves. I think that it is so important to have a feel and understanding for the people behind the dogs. That's where I develop the necessary trust when it comes to finding the right litter of pups. I will never know the specific dogs as well as the breeders do in order to make that decision. I have to trust that they know what their clients are looking for and that they make decisions when placing pup accordingly. After spending the better half of the day with them, it was confirmed that this was both the kind of people and dogs that matched what I am looking for.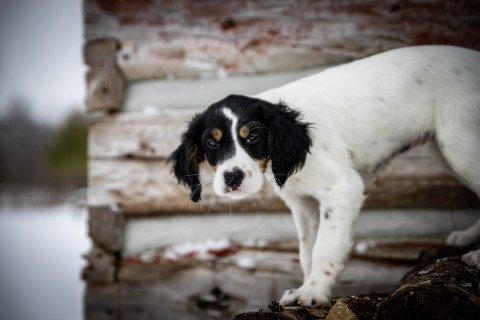 Over the last couple years in searching for a pointing dog, I made shifts in everything from specific kennels to actual breeds of dogs based on the findings made once I started digging in deeper. For example, I had a strong interest in a particular kennel and reached out several times to make contact with the owner. I got the feeling I was almost bothering them by trying to coordinate a time to meet them and their dogs and that was concerning. If I'm having a hard time connecting with them as a potential client, what would it be like if I had one of their dogs and there was an issue? Surprisingly, this isn't the first time and likely won't be the last that I've come across this. Again, it goes back to their being a lot of important factors in finding the right pup and the people behind them play a big part in the process.
We are lucky to have the world at our fingertips when it comes to the ability to do research. Smartphones and computers, YouTube and Google have made it easy to find out a lot of information without ever having to leave the house. Just keep in mind that there a lot of variables that matter. Pretty pictures, fancy websites, price tags, titles, health guarantees to name just a few. But all that and more aside, I think that the right pup starts with the right breeders. When I get to the point of choosing the actual puppy, I look at the litter, or at least the ones available and I always go with my gut. If you've done your homework up to this point, you really can't go wrong. If you need to get the right pup out of that particular litter in order to find success in the end, it's likely not the right litter to begin with. Good luck in all of our training!