Preparing Dogs for Shed Hunting Season
Chances are if you look outside this time of year you are going to see white, a lot of white. In our home state of Wisconsin, deer seasons have come to an end and we are moving onto the next season of outdoor activities... most of which include ice and or snow. These are also the kind of conditions that make most professional dog trainers load up their trailers and head south. But for trainers and dog owners like myself, these are the conditions I can't wait for during those hot and humid months.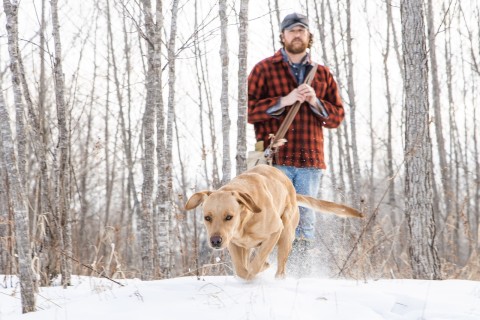 I can't wait for cold temperatures which allow me to exercise and actively work dogs on quartering and casting with little or no concern for overheating and exhaustion. When I say quartering and casting, most think of their upland dogs working the CRP for roosters or the tag alders in hopes of flushing the King. But remember, much like deer season, the small game season has come and gone now as well. So what's next on the list for our dogs and I? With the close of the deer season I immediately shift into the mode of shed season...and my approach to preparing our dogs to pick up antlers will be picking up right where we left off during bird season. In fact, one way I prepare my shed hunting dogs for spring is no different than working my dogs for birds. I can take the quartering and casting drills we've been using to prepare our flushers and simply change from bumpers or birds to antler dummies and real antlers.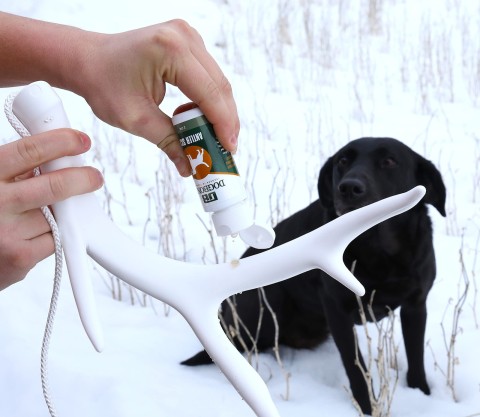 For many, shed season can be as much or maybe even more to look forward to than deer season. It happens at a time of the year when we are limited as to what other "hunting" we could be doing and it's a great way to spend time working my dog. I am asked often whether or not shed hunting with them will affect their bird hunting. I think it does...in a very positive way. I look at my dogs like they are my kids in many ways. In fact I know some dog owners that may prefer their dogs over kids! One example is when it comes to their hunting relative to kids playing sports. I have always been a believer in the idea of kids that play multiple sports develop into better athletes. I think this happens because different sports require different skill sets, different muscle development and use, different styles and types of coordination and different meanings and understandings of the concept of a "team". Better athletes will typically excel at sports, so by developing my dog into a better athlete/hunter", ultimately I am developing them to excel in sports/hunting. A dog that I can use to hunt birds in the fall, sheds in the spring, and have with us on family trips to the lake in the summer is the perfect "athlete" for me, and I think that all of these activities build off of and help strengthen each other.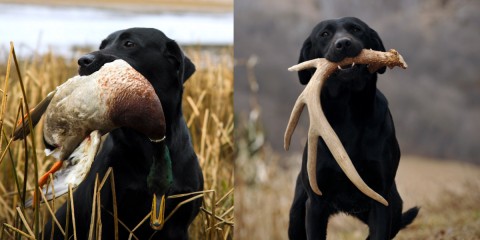 So, what are some ways we can prepare now for that transition from fall to spring and how can you use the snow that is likely to be around to our advantage in training? One easy and obvious way is by using color contrast for training. The white of the snow is clearly going to cover and hide sheds visible to the eye. It can also create issues with white training dummies and white antlers on the surface as they blend in and become "camouflaged" easily. At times, this can be a struggle for us as trainers when setting our dogs up to succeed. No different than when we start young bird dogs, we use the right tools to help us find that success. Bright white bumpers with young retrievers are helpful to ensure our young dogs are able to find those early retrieves and develop confidence. Later in training we may use feather-laced bumpers that not only add realistic scent, but also make these bumpers blend into cover using nature's camouflage. When working in snow conditions with my young or inexperienced shed dogs, I use a contrasting colored bumper, or in this case I use a brown training dummy that will surely stand out against the white snow. Prior to snow being on the ground, when the woods and fields are predominantly brown and grey the bright white antler dummy stands out and makes for a great opportunity for our young dogs to find success visually.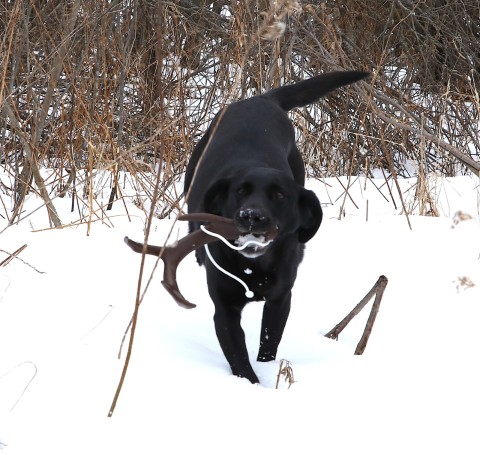 Shed hunters know it's not uncommon to find antlers varying in color from nearly chalk white to the richest dark browns. Shed hunters dream of the dark chocolate color finds that North Country bucks are famous for. And when they are down in the prairies of the Dakotas, Nebraska and Kansas, it's not uncommon to find a fresh shed that appears to be nearly bleached white. There is an old saying in sports that you need to "practice like you play". When it comes to training dogs, I think that saying is true as well. By using a variety of colors in your shed training both with the antler dummies as well as with real sheds, you are able to control and prepare your pups for success when it comes to the real thing in the field. Keep this in mind when your preparing for the next few months of shed season and you will be much more likely to produce on your trips to the field whether there's snow on the ground or not.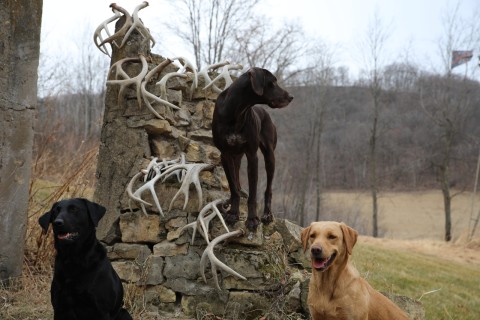 Best of luck this shed hunting season!
–Jeremy Moore
Shop shed hunting dog training products: DB Store
Training Content: DB Video Library
More articles: Jer's Journal