Training Retrieving Breeds Reliable Delivery with Hold Conditioning
A truck parked in the road with locked doors offers very little to you, or me. It simply gets in the way and stops traffic. The same can be said about a retriever missing their "keys." As a handler, I need to have the ability to unlock my dog's potential and keep them running smoothly. Fortunately, the keys that I believe a retriever must possess and master before truly being able to unlock their potential and start their engines are not difficult, sophisticated nor complex.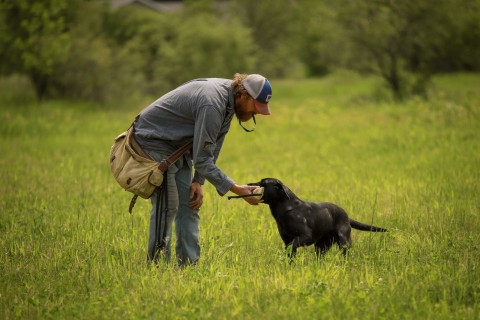 Retrievers, like most dogs, have been bred for centuries to serve specific purpose. Over time, the jobs we've asked of them have varied some, but even with this evolution the reason for choosing a particular style of dog remains the same. As a rule, the retriever is an intelligent, cooperative, and very biddable dog breed. They typically possess strong, natural game finding abilities. Simply said, they have a good nose, a natural "hunt", and are very trainable. When you look at a list of breeds which makeup the "sporting dogs" or "gundogs", you find those that we all recognize like the Labrador Retriever and the Golden Retriever, but that list also includes the Nova Scotia Duck Tolling Retriever, the Flat Coated Retriever, the Curly Coated Retriever, the Chesapeake Bay Retriever. "Retriever" is literally their last name. You'll also find 10+ varieties of spaniel breeds and the poodles, all of which are known and bred to possess a very nice natural retrieve. The pointers primarily make up the balance, and although some are not noted for it, I know first handed that you cannot and should not discount their lineage when it comes to the retrieve, as many have it in them as well.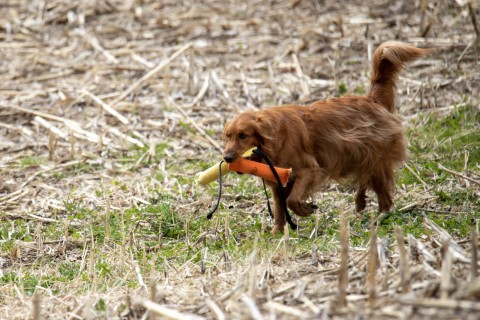 What is Hold Conditioning?
So, what is the key to retriever training? Ultimately, that retrieve is defined by your dog's delivery to hand. I call it "hold," and for me it comes as a result of completing the process of "hold conditioning." I choose to use "hold" as the actual verbal command, and it is repeated throughout the retrieve, in training and as often as necessary, serving as a constant reminder to the dog. The repeating of the command "hold" is important, particularly early on to remind the dog that they must hold the object until given a command to drop. For this I use the verbal command "dead." As the habit forms, the actual need to remind the dog to "hold" may lessen, although I still often find myself softly saying it to even my most reliable of dogs, more so out of habit myself. When it comes to the actual verbal command itself, it doesn't really matter what word you use as long as you use it consistently.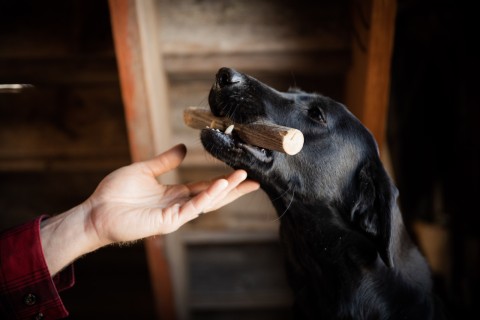 hold conditioning vs. force fetch
The "hold conditioning" process is an alternative to "forced fetch" and it is simply my preference. I believe it achieves the same results (a consistent and reliable delivery to hand) without the use of force or unnecessary pressure, which I believe could lead to potential issues down the line. I've always been a strong believer in that the retrieve, for any retriever, is something that they do naturally, love inherently, and should always remain a positive. I don't find the need, nor have the desire, to connect any kind of pain or negative pressure with the retrieve for my dogs. The results of having a dog that understands and performs a solid delivery to hand allows you to rapidly accelerate your training. It allows you to focus on and complete the development and piecing together of skillsets you have been working on leading up to that point. When you are confident and can ensure your dog will always complete the retrieve with a clean delivery and without any kind of static, at any point throughout the drill, that is when you are able to focus the dog on understanding all the other elements and variables involved within your training exercise. It is then that you are able to begin successfully transferring your training to new locations. You can add new and potentially greater distractions and diversions without the fear, frustration and wondering whether or not your dog is going to get back to you with the retrieve.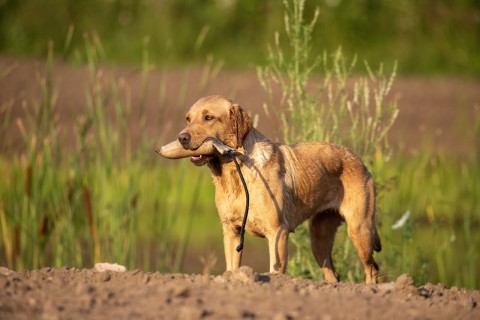 Delivery starts with puppy retrieve #1
A sound delivery can certainly be genetic in part; however, it also is something that can and should be brought out very early on with a young pup. Encouraging them to hold and "sharing" the object back and forth in lieu of taking it away from them quickly is one way to do this. Another thing to keep in mind that may be equally important in the big picture, are the things to avoid with those early retrieves. Games such as chasing the pup with anything in their mouths and tug of war are all great ways to form very undesirable habits with our young retrievers. Without a good delivery, I can guarantee you that the nightmare of dogs running off, taking big victory laps, chomping or hard mouthing bumpers and game, dropping short, "blinking" (running up to a bumper only to move on without picking it) and playing keep away does not simply go away with time. It will only fester and leave you with a feeling of frustration that can be crippling if left unresolved.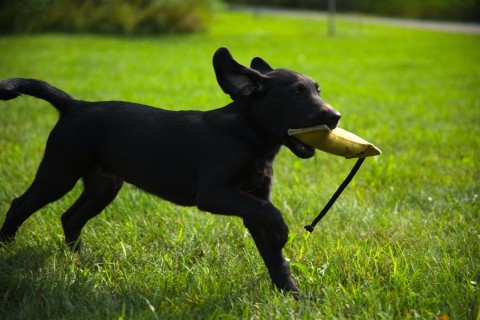 why delivery matters in your retriever training
Ultimately, all retrievers need to go through some kind of formal hold process. However, it should not be until after the pup has lost all their puppy teeth and has all of their adult teeth in (typically 4-6 months old). Prior to that point, puppy retrieves need to simply be fun with no pressure whatsoever put on the young dog. Asking that they hold something in their mouth or even to make a retrieve while they are teething is just not fair. Teething itself can be a trying time in a young pup's life with sore mouths and at times a heightened desire to chew on something in order to relieve some of that pain and frustration. I typically wait to hold condition a pup until they are somewhere between the 10-12 months old range and provided that we are not having any major issues with delivery to that point. I think the young dogs need to be willingly making some kind of retrieves prior to starting any kind of formal delivery dog training. These retrieves don't need to be perfect, but there does need to be something there to build off of. If you are struggling or not able to get any kind of retrieve out of the young dog, mastering the end of the process will do you no good as you will not have anything to connect it to. It would be like having a bucket of frosting but no cake to put it on.
Once you have the delivery to hand, you no longer have to worry about or fear being able to "finish" the exercise or drill. Instead, you're able to focus on the objective of the exercise or drill itself and that is where you are able to make forward progress in the big picture.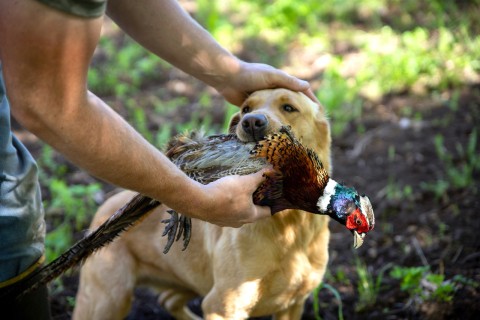 For more information on Hold Conditioning, check out our DogBone Premium Training Library, where you will find our formal Hold Conditioning Instructional Video along with multiple series documenting a variety of different dogs going through the hold conditioning process.
Best of luck in your training,
Jeremy Moore
For Video Dog Training Content: The DogBone Premium Training Library
For more articles: Jer's Journal
For DogBone training products: The DB Store
For our podcast: the DogBone Pawdcast